We offer permanent memorialization of your loved one. We can arrange for the construction of a mausuleum if your family wishes to, or select a basic headstone, or a nitso with engravings, etc. Even through this website that you can visit once in a while, you can continue to honor his/her life and to remember and cherish the memories that he/she left behind.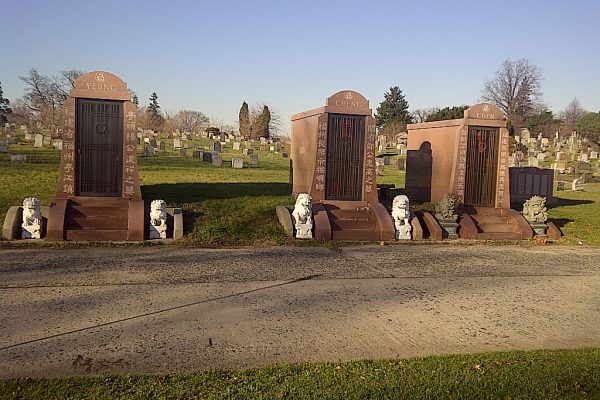 Mausuleums or imposing monuments are quite expensive but they are also another way of expressing love towards a dear-departed one.
Creating the perfect memorial is not an easy task. We understand that selecting a monument can sometimes seem overwhelming. It can be a difficult decision coming at a difficult time, or it could simply be planning for the future, but in any case we understand that there are emotional ties to picking the perfect memorial. Our advisers work with you every step of the way to ensure you end up with the exact memorial that uniquely memorializes your loved one and celebrates a life lived. We make the process simple so you can have the peace of mind that your memorial will be a perfect, lasting reflection of your loved one.
We make choosing a monument convenient while offering the same options and pricing as others. We try to work directly with a builder/wholesaler in our area to extend the savings to you. We work with all budgets and serve all cemeteries and faiths.
How to honor a life
After someone dies, the people left behind are tasked with carrying on with their lives.
This can be particularly difficult if the individual was a family member or a close friend, but it must be done. No matter what your religious beliefs (or lack thereof), grieving after a loss is healthy and completely necessary.
Though a loved one may be gone, you can keep their memory and legacy alive by honoring them in one of more of these ways:
Light a candle. You can do this at church and say a prayer, or do it at home and feel the warmth of their memory.
Hold a memorial service or candlelight vigil.
Finish any projects they were working on.
Bring flowers to their grave and keep the area well-tended.
Make a scrapbook of their life.
Reach out to family and friends who are also grieving and share stories about the departed.
Plant a tree or have one planted in their honor.
Volunteer for their favorite causes, or give a donation in their name.
Hold a charity drive in their name for food, toys or something to help others.
Remember them during life events like weddings, anniversaries, and holidays.
Live your life in a way that would make them proud. Finish (or go back to) school, have adventures, and be happy. It's what they would have wanted for you.
Remember, grief isn't a race to see who can bounce back and recover the soonest. It takes time. Don't rush yourself to feel better again. Also remember that not every suggestion in the world is going to resonate with you. Don't continue pursuing a strategy that remains ineffective just because thought leaders and experts say it works wonders. If it's not restorative in any way and you see no benefit, then it's time to move on to a new method.
Whether it's a hobby that's been dormant for some time, a new activity altogether, or even something you used to share with your loved one—transferring your emotions into an activity is a great way to detox yourself from stress and other disempowering emotions.
Cover your bed's headboard with their pictures. Wear their shirts and sweaters and hats. Put a memento they loved on your nightstand. Wallpaper an area in your home with the greeting cards you exchanged. They may not be physically present any longer, but it's okay to cherish what they meant to you and surround yourself with the wonderful time you shared together.